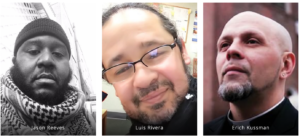 Have you ever met a returning citizen? If not, it's difficult to grasp both the harsh reality of re-entry and the wondrous achievement of full reintegration. To put a human face on life after prison and celebrate some success stories, WorkWell hosted "An Evening in Conversation with Returning Citizens" on May 11, 2021.
Three returning citizens, all WorkWell board members, shared their riveting, heart-felt stories of struggle and redemption. Each panelist had a unique experience to share.
Luis spoke of a fatherless childhood where "hurt people hurt people." Although he educated himself in prison, upon reentry he still "walked around with shackles in [his] head." By visiting the link below, you can hear Luis describe how he came to believe in himself, find fulfillment in fatherhood, and work as a mentor to children in need.
You'll also hear Jason, who gave up his youthful promise as an All-American football player for a life of "gang-banging," then turned his life around and became an accomplished chef.
And Erich, who after prison graduated from Princeton Theological Seminary and is now a pastor. Though these exceptional men traveled different paths, they have one thing in common: there were "guardian angels" who cared about them. In Erich's words, "When we didn't feel worthy, other people walked in and made us feel that worth, breaking the generational curse…. It takes programs like WorkWell to give people a chance—people just need a chance."
WorkWell advisory board member Dora Dunn hosted the event on Facebook Live. To see the 90-minute video (which starts at 6:32), click here.