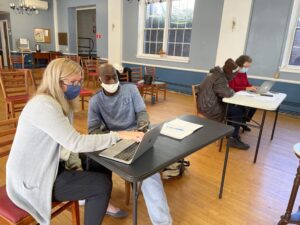 WorkWell only works because of our volunteers, who are partners with our participants as they seek to forge ahead with their lives. Volunteering to help one of our participants, and also to learn something of what it is like to encounter life after incarceration, can be life-changing.
We are always in need of new volunteers. Our primary need at the moment is for people to help during our Saturday mentoring meetings. Participants gather with mentor-volunteers on the first and second Saturday of the 4-week WorkWell cohort experience. During the first Saturday, volunteers work with participants on resume preparation. On the second Saturday, volunteers help with interview skills. The session lasts from 9-12 and includes breakfast–and of course, fabulous company! All sessions held at First Presbyterian Church of Trenton.
Volunteers are also welcome to participate in the graduation ceremony, generally held on the final Friday of the 4th week of the cohort.
If you are interested, please let us know! Fill out this simple form, and someone will get back to you. You can also contact us through the contact form.