WorkWell's trainees have recently been treated to visits from Jared Batson, a guest chef extraordinaire who has been volunteering his time to lead cooking classes and speak with participants about work in the culinary field. He recently commented on his experience in WorkWell: "The opportunity to partner and volunteer with WorkWell has been nothing short of wonderful, full of mutual learning experiences. The culinary industry flourishes in many ways through community strength, and it's my hope that this collaboration with WorkWell and its clients will enrich community bonds here in Mercer County and beyond!"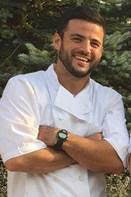 We can't imagine a person better equipped for the task. Jared is a little bit of everything in the food and beverage industry: a chef, a trainer, an entrepreneur and culinary consultant who also has extensive experience working with nonprofits.
Jared's background belies his thirty-something age. After graduating from Ohio's Miami University in 2009, he received a culinary certificate from the Ballymaloe Cookery School in Ireland and within a few short years had served as a chef and instructor for businesses not just in Ireland, but also in the Midwest, California, and the Greater New York area. In 2017 his Illinois-based catering business, The Nomad Food Company, won the Jean Banchet Award for Best Alternative Dining. More recently, Jared was head of culinary operations for New York City's first true "ghost kitchen," then served as director of the culinary arts program at the Stanley Isaacs Center, a nonprofit that serves low-income residents of Manhattan's upper East Side. These experiences educated him in issues of food insecurity and farm-to-table sourcing. Two years ago Jared founded Onion Bulb Productions, a company that offers services ranging from catering and recipe/menu development to kitchen design, all within the food and beverage industry.
It has been an impressive, globe-trotting career to date, not least for his nonprofit work, and there are still many years ahead. Jared recently settled in Hopewell, New Jersey. We can't wait to see where his path will take him from here—although selfishly, we hope he remains in Mercer County and includes WorkWell in his schedule.