Progress since our August 2022 update:
·  Two more cohort cycles have been completed, with nine more WorkWell graduates being celebrated. Through nine class cohorts, sixty-five participants have enrolled and forty have graduated. The next class is scheduled to begin on November 28.
·  We are pleased to welcome Cathy Mims to the WorkWell staff, in the part-time position of Trainer. Cathy has training and case management experience with returning citizens via Volunteers of America Delaware Valley. For now, WorkWell's training duties will be shared by Cathy and Kelechuku (Kel) Okoji (our part-time Career Navigator), so we have two staff members who can handle training and other program-related tasks as needed.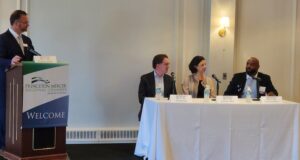 ·  Executive Director Jeannette Rizk and staff have continued to represent WorkWell at various community events and programs, including a September 21 panel discussion before the Princeton/ Mercer Regional Chamber of Commerce (photo at left) on helping employers find new sources of employees. As a result of efforts like this, our network of employer partners and donors continues to grow, and the Chamber itself has recently signed on as a partner organization.
·  Two successful friend-and-fundraisers have been held at the homes of two of our board members: Margie Gibson and Jeff Vamos. Our "Friends of WorkWell" list now contains 386 email addresses! (If you would like to unsubscribe, please email us at the address below.)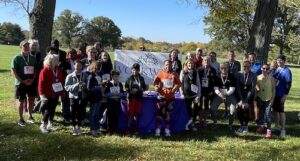 ·  Our "Moving Forward" 5k run/walk event on Saturday, October 15 was a resounding success.
·  Our staff, board members and officers for 2022-23 are listed here.
If you have questions or comments, please share them with us via info@workwellpartnership.org.