When a group of teenaged cellists hit the streets of the greater Princeton area to busk this past summer, it wasn't for the typical reason: to earn pocket change. No, these teens have been mentored by a very unique cello teacher, Suzanne Dicker, who believes "there is nothing greater you can do with your life than to help people develop so they can give to others." Those teens set out to raise money for WorkWell and other favorite nonprofits.
How does this West Windsor-based teacher get her students to focus outside of typical teenage preoccupations? Her philosophy begins with getting a feel for what will make each individual student thrive, then sticking with them every step of the way as they strive to achieve their goals. Without this partnership, she feels, students remain aimless. Moreover, Suzanne has always taken her students to perform at nursing homes, where recitals "are so much better than the ones where parents just listen and compare their child to others. Students learn that performing is giving a gift to the audience—not a competition."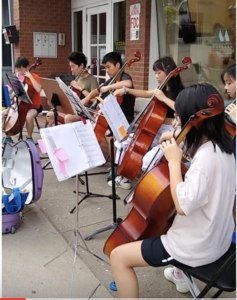 As her students expanded beyond nursing home recitals to busk for nonprofits, Suzanne spent many hours arranging pieces for their repertoire. This is the sort of selfless giving that is her life's work. Plato, she points out, calls it playing "midwife to the birth of the soul in another."
Issues of re-entry education lie also close to Suzanne's heart. The trust that ideally exists between student and teacher, she believes, should also exist between returning citizens and their mentors. "Coming out of prison is like learning how to rock climb," she says. "You can't do it on your own. If human beings have regular in-person interactions and problem solve with people they trust, it fosters their well-being and helps them adapt to new environments. This is the most critical work that WorkWell performs."
We thank this special teacher and her talented teens for busking on behalf of WorkWell and caring for the wider community!
For a brief video showing the group performing in Princeton, click here.