On October 15, WorkWell hosted its inaugural "Moving Forward" 5K run/walk at the Educational Testing Service's bucolic campus in Princeton, NJ. By all measures the event was a success. Thanks to cooperative weather, attendees wound their way through a sun-splashed course lined with maple trees in full autumn glory. Afterwards they picked up pastries and swag at the sign-in station, which rocked to the music of DJ Dave Hoeffel.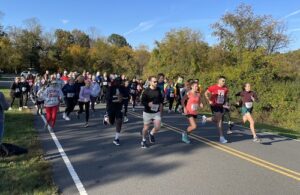 Our goal was to reach 100 registrations, and happily, we ended up with 109. Evidently the word about WorkWell is spreading, with the three top runners hailing from two different counties. From Mercer County, Sarah Graham (Ewing) came in first, with a finish time of 20:44. From Hunterdon County, John Killion (Flemington) clocked in at 20:57, and Amanda Cirillo (Ringoes) trailed by a slim margin to come in at 20:58.
Clearly it takes a community to host an event of this magnitude. Our deep-felt gratitude to all who made it possible: ETS, whose expertise hosting 5k races was invaluable; Dave Hoeffel, who DJ'ed pro bono; WorkWell board members who labored long and hard to pull all the pieces together, from signs to websites to tee-shirt orders and more; friends who encouraged their own friends to sign up; and the numerous sponsors whose support, both financial and moral, mean the world to us.
Thanks to all who participated in the planning and the racing, we raised more than $5,000, funds that will be put to good use as we pursue our mission: Working together to equip returning citizens with job skills, dignity and hope. Thank you, everyone—and we hope to see you next year!